"Best Prices on The Internet"
New Generation
New Generation Ammunition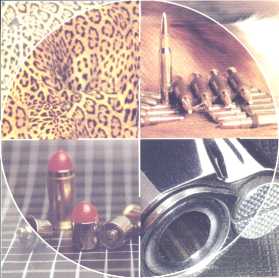 The Sentry Bullet
The Sentry is a projectile used in handgun ammunition, based on a solid copper slug. It was designed and patented to combine the characteristics of most of the world's best self-defense bullets into a single bullet, for unprecedented stopping power.
The design concept of using monometal copper projectiles is well established in the industry. In the USA many reloaders believe that solid copper bullets used in the making of hunting ammunition is the best on the market. In South Africa, hunting bullet designers such as Goodnel have also concentrated with great success on solid copper as the main ingredient of their projectiles.
Stopping Power
We define "Stopping Power" as the amount of physical incapacitation imposed on the subject. Three aspects of bullet performance are important to evaluate its effectiveness:
Penetration
Temporary stretch cavity
Permanent crush activity
The Sentry has an excellent overall performance in all of the above.
Tests conducted at the NGA testing grounds proved:
Adequate penetration in various tissue simulants
spectacular stretch cavity performance in ballistic clay and gelatin
good crush cavity results in tissue media and
consistent bullet expansion
Technical Characteristics
The bullet is produced as a solid copper slug which is nickel plated to reduce barrel friction.
A plastic cap is mounted on the tip of the slug to ensure reliable feeding in selfloading firearms. In revolvers is facilitates fast insertion by hand or using speedloaders.
The production process guarantees extremely low tolerances on the physical dimensions of the projectile. Uniformity in weight, diameter and ellipticity guarantees external ballistic performance. Groupings of 37mm at 25m was obtained from a fixed barrel in a laboratory environment.
The unique shape of the Sentry has several properties that will ensure the following:

No core-jacket separation when hitting either hard or soft targets.
No ricochets even when hitting hard objects like windscreens at very sharp angles.
Virtually 100% weight retention in tissue like media.
Expansion to over 12mm (.50"). Characteristic for 9mm calibre
Optimal wound ballistics
Excellent transfer of energy

Caliber's currently available

60 gr .3545" for .380 auto (9mm short)
85 gr .3545" for 9mm parabellum
80 gr .357 for 38 Sp and .357 Mag
90 gr .357 Mag
113 gr .40 S & W
150 gr .45" for .45 ACP
150 gr .44" for .44 Rem Mag
Tactical Penetration
Performance Through Windshield

The diagram below (Fig.C shows results of a 9mm Sentry shot through a windscreen at 7m.)

Steel

The Sentry penetrates one layer of sheet steel of up to 2.5mm thickness and shows similar results as per Figure A

Bullet Proof Vest

Standard loads do not penetrate vests with protection level lla. This makes Sentry an ideal carry round for law enforcement officers. International standards dictate that only special forces are allowed to carry ammunition which would penetrate their own vests as many regular officers are shot with their own firearm.